Sending Fresh Flowers has become such a tradition for certain occasions such as Get Well, Birthdays, Anniversaries and Sympathy. I recently discovered Gold Roses which are a much better alternative.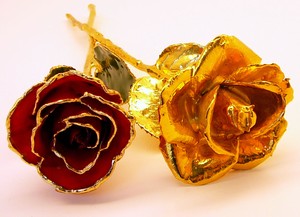 These are real roses dipped in 24 karat gold. It takes days for the company to complete the process to create the final outcome which is a gold rose that will last forever. In addition to the gold plated rose selection, they also coat these roses in lacquer and then trim them in gold to create a gold dipped colored rose. For example if you start with Red Rose, the original red color will show through and be edged in gold with the stem and leaves dipped in gold.
If you are looking for something even more outstanding, they are offering Silver Dipped Roses and Platinum Roses. 
Roses in these styles and the original gold rose version make great anniversary gifts and are ideal wedding gifts. You can also purchase gold dipped mistletoe and gold dipped orchids in colors. I even found a gold dipped golf ball and gold dipped golf tee. And yes there are gold dipped baseballs. And for the new dad what could be better than a gold dipped cigar? What will they think of next?
All kidding aside these gold roses and related items make much better gifts than fresh flowers because they will still be around years after the flowers have wilted and been tossed out. So you are sending a gift that will keep on giving. And if you are like me you may want to purchase a variety for yourself to use in centerpieces and even holiday decorating activities. Gold Roses and the Red Roses make great Valentine Gifts. And Mom will be thrilled to receive any style or color for Mother's Day.